2010 Conference - Captivating Thoughts
Transforming the Mind: Captivating Thoughts
Once again the conference took place in the amazing setting of Dovedale House, in the Derbyshire Dales, on the weekend of 18-20th June. Speakers - Alister McGrath and Edith Reitsema.
Alister McGrath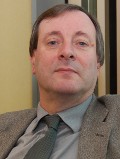 Alister McGrath is Professor of Theology, Ministry, and Education at King's College, London. He was formerly Professor of Historical Theology at Oxford University, before moving to London in 2008. He was originally a natural scientist, studying chemistry at Oxford, and gaining his doctorate in molecular biophysics in the laboratories of Professor Sir George Radda. He then changed to theology. He is widely known as a leading critic of Richard Dawkins, and has a specialist interest in science and religion.
He has published widely. His most recent academic book is "A Fine Tuned Universe", which considers the theological implications of what are widely known as "anthropic phenomena".
http://users.ox.ac.uk/~mcgrath/
Edith Reitsema

Edith Reitsema, a staff member at English L'Abri, grew up in South Africa where her parents were missionaries to the Zulu people. She holds a B.A. in Music, and an Honours Degree in Modern English Literature from Potchefstroom University in South Africa; an M.A. in Theology from Covenant Seminary in St.Louis; and a graduate degree in Philosophy from the Free University in the Netherlands. She was one of the translators of The Complete Works of Hans Rookmaaker (2002). Edith lectures on a variety of topics that deal with the relationship between Christianity, contemporary culture and the arts.